Oct 19, 2002
46,166
1,906
BARCELONA, Spain — Andres Iniesta, the midfielder who embodied Barcelona's creative attacking style and helped the team win dozens of trophies, is leaving the Spanish club after 16 seasons.
In an emotional news conference attended by most of his teammates, his family and club executives, Iniesta said Friday "this season is the last" at Barcelona.
"I have spent all my life here at this club and it is not easy to leave," Iniesta said after fighting back tears and regaining his composure. "My time here ends this season. I understand that the club that took me in at 12 deserves the best of me in return, and I have given it that until now, but in the near future I won't be able to both physically and mentally.
"The club has placed its confidence," he said. "And I have always said that if I am not able to give my all to my club that has given me everything then I wouldn't be happy."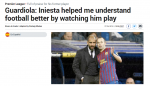 http://www.marca.com/en/football/barcelona/2018/04/27/5ae3270e268e3edd3d8b456a.html