[h=4][h=2]
مردم بسیاری از مناطق کشور شب گذشته اشیایی نورانی را در آسمان مشاهده کردند.
[/h]
در این ارتباط تصاویر و فیلمهای متعددی نیز از سوی کاربران خبرآنلاین اترسال شد که برخی از باکیفیت ترین آنها منتشر شد.
به دنبال این رخداد مشخص شد که رزمایش سراسری پدافند غیرعامل به منظور ارزیابی واحدهای پدافندی کشور شب گذشته با موفقیت کامل به اجرا درآمده و مشاهده اشیای نورانی مربوط به این موضوع بوده است.
به گزارش روابط عمومی ستاد پدافند غیرعامل کشور ، شب گذشته با هدف ارزیابی آمادگی واحدهای پدافندی کشور رزمایشی سراسری با عنوان طلوع فجر برگزار و با موفقیت کامل انجام شد.
بنا بر این گزارش، رزمایش مذکور که بدون اطلاع قبلی واحدهای پدافندی انجام شد ، با عکس العمل بموقع و مناسب کلیه واحدها مواجه گردید و با موفقیت کامل به پایان رسید.


UH I think Israel and every other country in the middle east including Russians who Israelis believe a failed ballistic missile test of them was responsible for what was seen in the skies would like to know what the F is Iran talking about!
​
:devil-smi
http://khabaronline.ir/detail/219099/society/events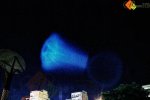 <a href="http://khabaronline.ir/detail/219099/society/events">[video=youtube;t4aoJO1KUGg]http://www.youtube.com/watch?v=t4aoJO1KUGg&feature=related[/video]​
[/h]