Feb 15, 2006
7,797
247
45
Dorood be doostan
We are all proud iranians, but do we know at all Where Ostane Yazid is located? Where is Golestan? Where is Kohgiluye & Boyer Ahmad?
Take this Geo quiz test of Iran's all 31 provinces and expand your knowleg of Irans Geography.
Before you take the quiz study this map. It will give you a head start.
Don't give up if you end up with shitty score after first time.
After a couple of times, you will memories all Ostans
Here is the map to study: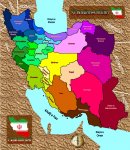 And here is Iran's provinces quiz:
https://online.seterra.com/en/vgp/3182
Good luck!
btw. I don't know if you guys are familiar with Seterra Geography page?
I use it alot in school with my students. So if you have kids this page is great for them too.
So many great geo quizes to take. many hours of education for kids is there.
https://online.seterra.com/en
Last edited: