Oct 19, 2002
46,518
2,119
What is the background to the UEFA Nations League?
The rejuvenation of national team football – and the UEFA Nations League – stems from the desire of UEFA and its 55 member associations to improve the quality and standing of national team football. UEFA and its associations wanted more sporting meaning in national team football, with associations, coaches, players and supporters increasingly of the opinion that friendly matches are not providing adequate competition for national teams.
Extensive consultation and discussions started as far back as the 2011 UEFA Strategy Meeting in Cyprus and continued at a series of Top Executive Programme (TEP) meetings over the following three years. The UEFA Nations League was unanimously adopted at the XXXVIII Ordinary UEFA Congress in Astana on 27 March 2014.
What is the basic format?
The format of the UEFA Nations League features promotion and relegation. The 55 European national teams have been divided into four leagues in accordance with UEFA's national association coefficient rankings on 11 October 2017.
League A includes the top-ranked sides and League D includes the lowest: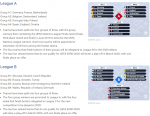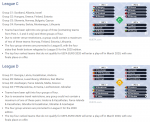 https://www.uefa.com/uefanationsleague/news/newsid=2079553.html