I always get a laugh at some of the ceremonies held in Iran for Ashura commemorating the bitch slapping that Hossein and his 72 men got in Karbala. I thought I would share this one though, only for the huge number of spectators involved... :1:
Lets situate ourselves here...a major intersection in Tehran. The morning of Ashura with a few devoted erecting a big massive tent

Now praying besides this now holy tent is only a privilege for very few.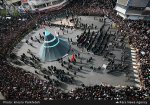 So we have a tent. Its ashura and we are missing one very important piece. Oh yes the white horse...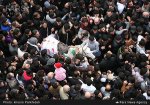 And the creepy looking guy holding a baby



To cap things off...its time to burn the tent down. But what could possibly go wrong?
People breaching the perimeter to jump in the burning tent. I kid you not what you are seeing is real. lol.