United fans , brace yourselves as United legend
Nemanja Vidic
is about to face Manchester United.
Vidic signed with Manchester United in January 2006
Vida helped United with 5 EPL titles , 3 UEFA Champions League Finals , 1 UEFA Champions League trophy , 1 FIFA Club World Cup , 3 Football League Cup trophies & 5 FA Community Shields.
Vidic signed with Internazionale in July 2014
vs
Manchester United

vs Internazionale

Pre-season Friendly

Tuesday 29 July 2014

FedEx Field, Washington DC , USA

KO : 19:30 local time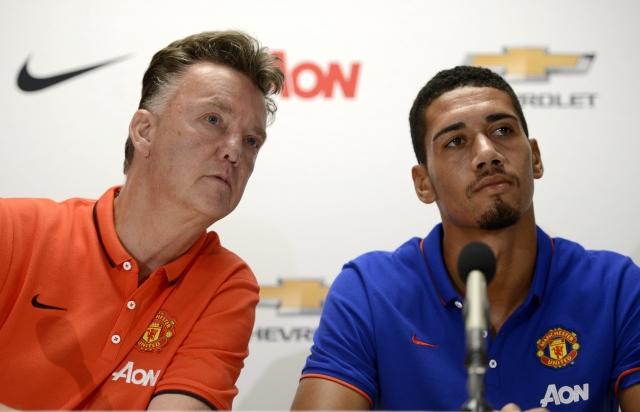 Louis van Gaal will stick with 3-5-2 system
Louis van Gaal will continue with his new system for the rest of pre-season to give his Manchester United players as much time as possible to adapt before the new campaign begins.
Van Gaal has deployed a 3-5-2 formation in both games on tour so far, against LA Galaxy and Roma, albeit with almost completely different personnel in each of the four halves.
The manager has pointed out that he has other options but wants to stick with his preferred shape against Inter Milan on Tuesday and Real Madrid on Saturday.
"It's difficult to change the systems and I had to start this system at once because we don't have time to change it," van Gaal told media at a press conference in Washington DC.
"We only have three weeks before the season starts, so I have to use all my training sessions to implement this system.
"They know already the other system [4-4-2 or 4-3-3]; they have played that from their youth, so that's easy. You saw that in the [Netherlands'] game against Mexico – I'm sorry to say that when we were 1-0 down I changed the system to 4-3-3 and then we beat them!"
Van Gaal confirmed Wilfried Zaha, who hasn't yet seen any action in the States, will play up front in the second half of the International Champions Cup game against Inter.
"When we play this system, he has to play as a striker, otherwise he cannot play," said the boss.
"Young is another winger but he can play as wing-back. We shall see."
Left wing-back Luke Shaw trained away from the main group in Monday evening's open session and van Gaal was asked why.
"Luke Shaw is okay," he confirmed. "I am a coach who looks at what individual players need and I think he needs to be fit, but he is not very fit.
"Therefore he cannot perform what I want, so first he has to be fit and has to train individually.
"I have spoken with him and we have made the programme. He agreed with me. I don't know [when he will be fit], but I have heard good messages from [fitness coach Tony] Strudwick."
The boss was also asked about Javier Hernandez, who joined up with the squad in Los Angeles and played the final 20 minutes of the 3-2 win over Roma in Denver.
"He came later than the other players because the Dutch national team beat Mexico in the last 16!" joked van Gaal. "That's why he has to train. I believe he is fit.
"When he plays, he will play in the striker's position and there is great competition there with Rooney, Welbeck, van Persie, Keane, Zaha – a lot of players."
Link to MUTV footage of United trainining session. some fine first touch drills.
http://www.manchestereveningnews.co...nchester-united-pre-season-tour-watch-7523683
United training pics at FedEx Field, the home of the NFL's Washington Redskins.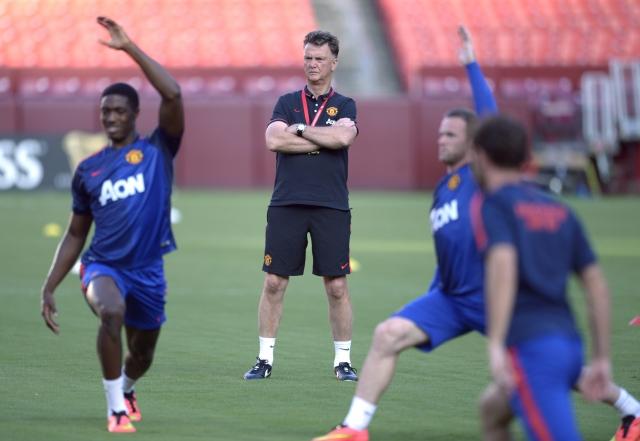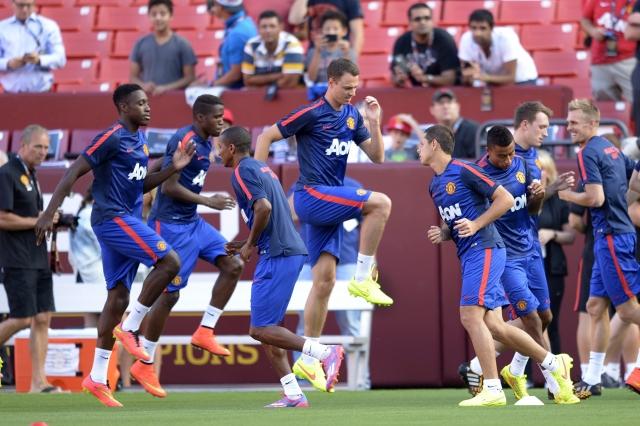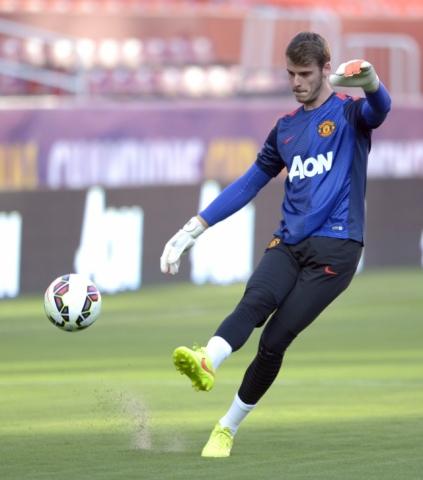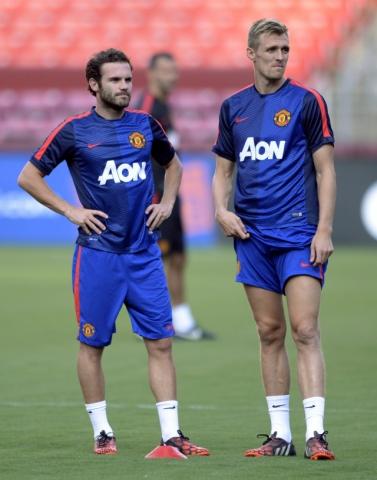 Vidic: I'm glad it's only a friendly
Nemanja Vidic has admitted in an exclusive interview with MUTV that it will be a surreal experience playing against Manchester United for Inter Milan when the two sides meet in Washington DC.
The former Reds skipper joined the Italians this summer after eight-and-a-half years at Old Trafford, but in only United's third game of Tour 2014 he finds himself lining up against his old club.
Nemanja sat down with MUTV before the match, screened live on club's official channel in high definition, and talked about the big decision to leave United, how he is settling in at his new club and his determination learn the language.
Vida admits that he is glad that, although the game is in the keenly contested International Champions Cup, it is after all only a friendly.
"It's good that it's a friendly match," he told MUTV in an interview aired on Tuesday. "I wouldn't love to play against United in a competitive game. But it will be strange playing against players I trained with, against a club I was part of for so many years. In another way, I will be glad to see friends."
Asked if he would play like the all-action defender we all know and love, he added: "Listen, I would play against my brother as strong as I can!"
Watch the interview in MUTV's Countdown to Kick-off show on Tuesday (see schedule for various timings) ahead of live match action in HD from 00:00 BST.
Last edited: