Oct 19, 2002
45,756
1,642
March 3, 2018, will go down in the history books as a memorable day in football as video refereeing truly arrived in football.
From now on, players will know that in addition to the four, or in some cases, six referees, they will be watched by cameras.
"Football will be almost perfect from now on," said Gianni Infantino, FIFA president, after the decision to use the VAR system at the 2018 World Cup in Russia.
FIFA will not force each country's football association to use VAR in their competitions, though bosses believe it is only a matter of time until that is the case.
The Premier League, for example, is reluctant to extend the introduction of the system beyond the FA Cup, unlike La Liga, who will introduce it next season.
There are four cases in which VAR can be used in a game.
1 -
The first is to tell whether a goal is or isn't legal, if there is a foul or offside. The technology will tell the difference and could reveal an offside call by millimetres.
2 -
If the decision to give a penalty is correct or not.
3 -
To check a move leading to a straight red card, it will not be used in the cases of second yellows.
4 -
When there is a case of mistaken identity or the referee has failed to see something crucial to the game, the video referee can advise him and then the match referee will decide what action to take.
This can include penalties for fouls outside the box, handballs, or much more, but the referee which have the final say.
Assistant referees will also be encouraged to delay raising their offside flags as it is best to rule a goal out for offside, rather than prevent a potential opportunity, if they are unsure.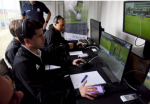 There are doubts about how to inform fans of what is going on, though in the World Cup replays will be shown on scoreboards.
Federations that want to use VAR will undergo a series of tests to show that they have prepared correctly with a license then given.
"We aren't ready, to be honest," said former referee Pierluigi Collina, head of UEFA's refereeing organisation.
"I have to admit that it can't start in three or four months or in August.
"Some associations have worked on it, others haven't, they've been realistic.
"It's necessary to prepare European referees."
The International Board have also granted the option to make a fourth substitution in extra time.
Statistics from the trials
972 official matches
693 friendlies
98.8 percent success rate
1 error every 3 games without VAR
1 error every 19 games with VAR
Each decision using VAR takes up one minute of time, on average.
In the typical game of football, eight minutes and 15 seconds are lost to freekicks, seven minutes to throw-ins, five minutes and 45 seconds after goals, four minutes on corners and three minutes on substitutions.
http://www.marca.com/en/football/international-football/2018/03/03/5a9ac695268e3e265d8b45af.html