Administrator, Technical Team Director
Staff member
Sep 23, 2004
34,854
1,212
'I have five Champions Leagues, you have none': Cristiano Ronaldo gestures at Atletico fans after loss.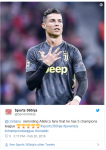 What a bitch, what fucking bitch. This guy can NOT take a loss, how about you fucking congratulate them? how about that for once?
I wish you cry day and night, I never hated a player as much as I hate you.