I found this while I was reading sports news looking for Inter transfers, gotta say so much better news LOL: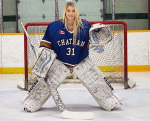 MIKAYLA DEMAITER has been called the "world's sexiest ice hockey goalkeeper" - and it's not hard to see why.
When she's not showing off her skills on the rink, the stunning blonde bombshell is bombarding her fans with skimpy selfies
Demaiter, from Chatham in Ontario, plays for the Bluewater Hawks in the Provincial Women's Hockey League.
The 19-year-old has to keep herself covered from head to toe in protective clothing when she is on the ice.
But her Instagram page, which has amassed 125,000 followers, shows a very different side to her.
She leaves little to the imagination as she shows off her incredible figure in a selection of skimpy bikinis.
Demaiter has sent her fans into a frenzy with snaps of herself in the gym, in swimming pools and on the beach.
https://www.instagram.com/mikaylademaiter/
Last edited: