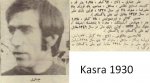 View attachment 33792
I decided to open a thread about this great game,with full report about Iran vs north korean game in pyoung young in 1351...,and see how north korean coach praised nasser hejazi as the magician...most of you guys,have seen the great game of abedzadeh against Ausralia,but none of you guys,have ever seen any hejazi game against the great teams such as N korea....this site belongs to nasser hejazi.....
the full picture of nasser hejazi in this game,and full report by donyaye varzesh will be brought to you guys for the first time in may 23rd, 2013,which is his death anniversary,but before that,till that day,I try to scan,and send the pictures of great players just a month before this game,which has been printed in donyaye varzesh farvardin 1351....these players have been invited in team melli,to fight against N.korea team in 1351.....one of them,is ali jabbari,that you see his picture here....these pictures and documents will show us how they were anxious and fearful about this game.
again,the full report of the game with picture of nasser hejazi,and the full report by donyaye varzesh will be printed on his death anniversary in 23may 2013,and for those young generation who have not seen his great game against N.korean team,this could be a great documentary evidence,and see how we lost a great GK in our history.
thanks for the great job by fariborz(who was the ex-participant in this site,who scanned my pictures),and my uncle and his friend mansour p.who sent these great documentary pictures to me to print them here.
Last edited: